Confirmed Guests Why Katee Sackhoff Is The Current Reigning Queen Of Sci-Fi
No Guest Found in this category
From Sigourney Weaver's Ellen Ripley to Linda Hamilton's Sarah Connor, some of the most memorable science fiction moments in pop culture history have relied on strong, independent women kicking (alien and/or cyborg) butt and taking names, but in amongst her contemporaries, one actor has undoubtedly emerged as a Leader, a Captain, if you will…
Whether she is fighting Cylons, teaming up with belligerent Furyans, or reuniting the scattered peoples of Mandalore, Katee Sackhoff has evolved to become one of the most sought-after figures in the genre. Perfectly capturing the single-minded intensity and stoicism that makes up some of the most beloved stone-faced heroes, Sackhoff currently stands as the rightful heir to a crown bestowed on only the most selective of sci-fi actors.
After last week's awesome virtual panel with Katee at Supanova in Adelaide, and with her set to join us for another virtual Q&A in Brisbane (11-12 November), we thought it timely to bend the knee to our reigning Queen of Sci-Fi and look at some of the roles which have turned her into a modern icon.
KARA "STARBUCK" THRACE
Once described as one of "television's most complex, ever-evolving characters", Battlestar Galactica's Kara Thrace serves as the reimagined version of Dirk Benedict's Lieutenant Starbuck from the original 1978 television series. When it was first announced that Sackhoff, who had previously appeared in the 2002 Halloween sequel Halloween: Resurrection, would be playing a version of Benedict's classic sci-fi hero, fans were initially hesitant.
But series creator and former Star Trek writer and producer Ronald D. Moore could not have been any surer in his casting decision. Revealing that while he looked at many potentials for the role of Lieutenant Thrace, Sackhoff "simply blew them all away".
Once viewers actually got a chance to see Sackhoff in action as her hotshot pilot, the tables quickly turned, and fans came to embrace her self-destructive and heavily flawed reimagining of the original Starbuck. Sackhoff's Lieutenant Thrace became a broken warrior whose gruff exterior and insubordinate ways would make her a bona fide fan favourite.
SARAH CORVUS
In 2007 NBC attempted a short-lived television reboot of the '70s sci-fi series The Bionic Woman. While Merlin actress Michelle Ryan would ultimately take on the role of Jaime Sommers once made famous by Lindsay Wagner, Sackhoff got her own chance to tackle the role of a cybernetically enhanced super soldier. Touted as the first Bionic Woman outfitted by the Berkut Group, Sackhoff's Sarah Corvus eventually lost control of her bionic implants and went rogue, killing 14 people and was eventually hunted down and terminated by her own lover.
Three years later she would be resurrected, setting the stage for her to become Sommers' nemesis, whom she believed was in possession of newer bionics that could be used to repair her own. While the series was cancelled after just eight episodes and Sarah's character arc was never completed, during the original run many viewers called for Sackhoff's character to get more screen time and felt she outshone the show's actual protagonist.
DAHL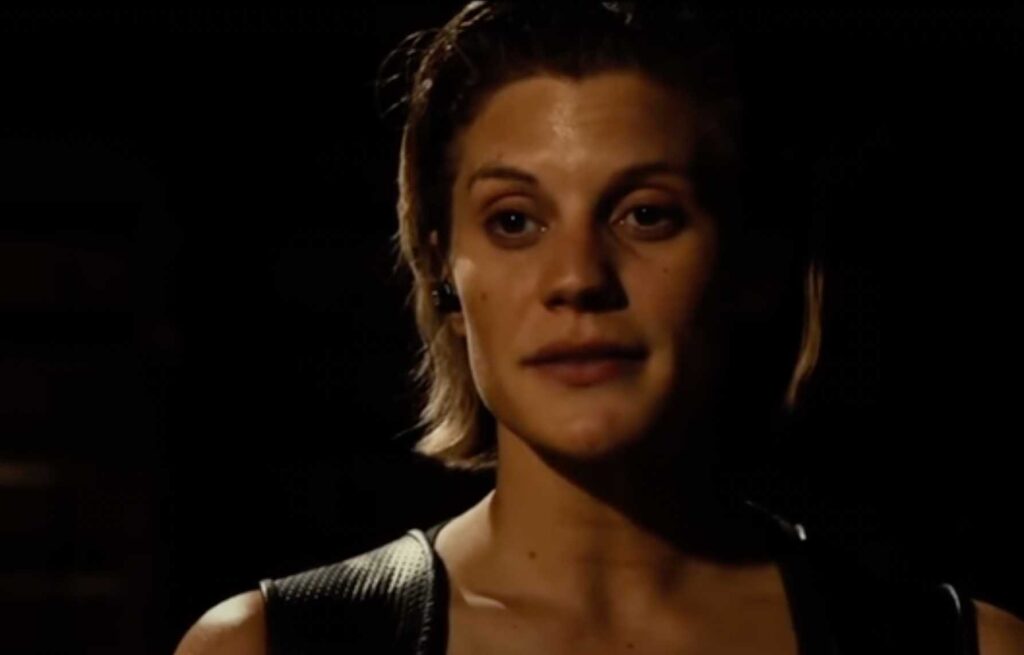 When it comes to dealing with gruff sci-fi antiheroes, few characters could stand toe-to-toe with Vin Diesel's notorious outlaw Richard B. Riddick. However, when Diesel returned to the role in 2013 for his third outing as the famous Furyan survivor, Sackhoff was cast in the supporting role of the tough-as-nails mercenary and sniper Dahl.
Describing her role in 2013's Riddick as a far more mature character than her version of Starbuck, in an interview with Collider she once explained that Dahl was "the toughest, most deadly character I've ever played". While it is not yet clear whether Sackhoff will return for the upcoming Riddick: Furya that is currently in development, her character managed to survive the events of the last film and many fans are keeping their fingers crossed that she will reprise the role.
BO-KATAN KRYZE
Former member of the Death Watch and sister to the Duchess of Mandalore, Satine Kryze, Sackhoff first joined the Star Wars universe as the voice of Bo-Katan Kryze in season 4 of The Clone Wars animated series. While her character was not originally intended to appear in season 4, series showrunner Dave Filoni decided to introduce her at the last minute to help set the stage for her character's extended presence in season 5.
Some seven years and multiple animated appearances later, Bo-Katan finally made the leap from animation to live-action in The Mandalorian season 2. While Sackhoff had long held out hopes that she would be given the opportunity to play the character in live action, she had expected that the role would be recast.
Thankfully, however, Filoni and his Mandalorian co-executive producer Jon Favreau had the common sense to realise no one else could do the role the same justice as the character's original voice actress. So excited was she to be given the opportunity, Sackhoff has previously said that she burst into tears when she first tried on her character's trademark blue armour.
Moving beyond her early appearances in The Mandalorian season 2, season 3 would increase its focus on Sackhoff's Mandalorian leader, with the season finale seeing her lead her people in reclaiming their original home world. While it is not yet clear how Bo-Katan will figure into future seasons, or Filoni's upcoming Star Wars movie, history has made it abundantly clear that more Katee Sackhoff in your sci-fi is always a good thing.