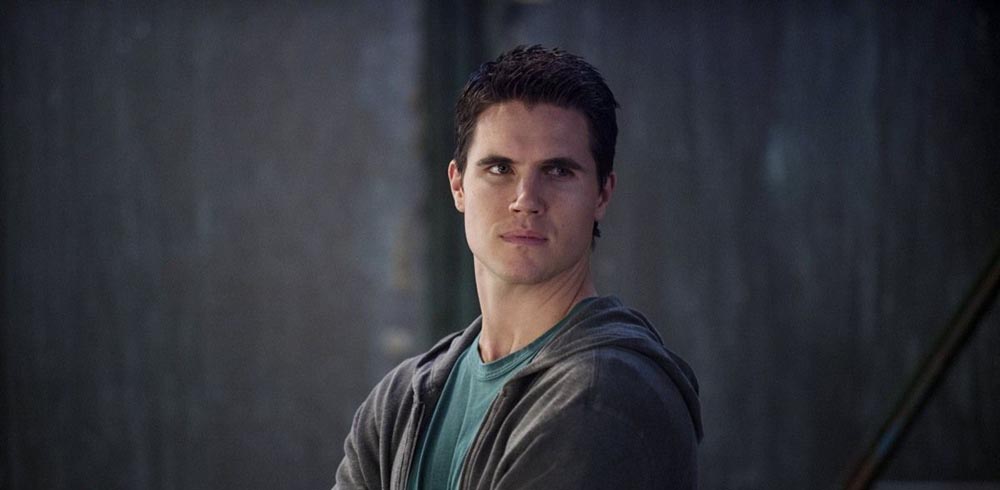 INTERVIEW: What To Expect From Robbie Amell's Upcoming Film 'Code 8'
It's rare these days when Supa-Star Robbie Amell gets to chill out, but after recently wrapping a film in Mexico City, the Canadian actor is enjoying some downtown at home before heading to Australia this month for Supanova.
The Flash star has been involved in a wealth of productions since his all-too-short stint as Ronnie Raymond/Firestorm in the Arrowverse, and keeps finding his way back to comedy.
His recent shoot was for the upcoming Netflix comedy Desperados, where he stars alongside Nasim Pedrad, who you might know as Princess Jasmin in Disney's live-action Aladdin.
"I kind of started my career in comedy with Cheaper by the Dozen 2, although I didn't get to say much," Amell says.
"I got to watch Eugene Levy, Steve Martin and Bonnie Hunt, these really funny comedians, do their work. Then I did a Nickelodeon show called True Jackson, which although is a Nickelodeon show, it's still a comedy and it's shot like a multi-camera sitcom, and we had great writers who came from network comedies."
"We had a director named Gary Halvorson, who directed, something like, 50 episodes of Friends and Two and a Half Men, and all of these great comedies. I got to learn my beats and timing, and I just enjoy it. I have a lot of fun doing it."
"I just finished an Amazon show that's a comedy, and Desperados as well, and then I'm doing a romantic comedy after that with Lucy Hale in New York, later in July."
With such a full slate, it's surprising he's had time for anything else, but in recent years has been developing the feature film Code 8, alongside cousin, Arrow lead and fellow June Supa-Star, Stephen Amell.
It's been a passion project for the duo, alongside director Jeff Chan and writer Chris Pare, and builds on their 2016 short film of the same name.
"We always wanted to work together and this was just the way that we figured we could do it," Amell tells.
"We never thought we would be able to make a movie of that scale by ourselves. I mean, it wasn't by ourselves, but without a studio. And because of the success of the global crowdfunding campaign, and with the fans' support, we made this movie like, five times bigger than we ever expected to."
Code 8 will screen in Sydney and Perth during the Amells' June trip, and fans can expect a wild ride.
"The film is set in this sci-fi world where 4% of the people have some kind of abnormal ability, but they're not superpowers and they're not superheroes, they're just trying to get by," he explains.
"Actually having an ability makes it harder for you to get work. You are kind of persecuted for having powers that people see as being a little bit dangerous, so the police forces become very militarised. And most of these people live in this small city, called Lincoln City."
"The story centres around my character, whose mum is sick, and the lengths I'll go to help her. I get swept up in this criminal underworld, of people using their powers and their abilities, by a character named Garrett, who is played by Stephen."
Depending on how its release goes, we might see the Code 8 universe expand.
"We definitely see this as the beginning. And it's not finished yet, so I would imagine we get to do more or we would definitely like to do more in the future."
It's been a while since Amell was a prominent figure in the Arrowverse, but his time on-screen still sees him a fan favourite to this day, so it's very likely Code 8 will be received with glowing praise from fans across the globe.
"At conventions, it's really nice to meet all the fans," he says. "And one thing that's really great about The Flash is you get full families. Parents that watch the show with their kids, which is really sweet."
"My wife [Italia Ricci] and I have done a lot of travelling the last couple years and I get picked off for Firestorm, as much or more than anything else I've done. That's really special. It's always nice to go back when they'll have me… It's tough to die so often."
The role of Firestorm in DC's Legends of Tomorrow – currently portrayed by Franz Drameh – was initially offered to Amell, but he turned it down. That doesn't mean we definitely won't see him appear somewhere in the Arrowverse again.
"The tough thing is, you can't just keep bringing somebody back, because at a certain point you go, 'Well, why is he showing up for one or two episodes?'
"So I think I understand why I haven't been back as much. I wasn't able to commit to Legends of Tomorrow. They wanted to turn it into a full series and I had other projects on the go. And the show was going to shoot in Vancouver for nine months a year, and it just wasn't something I was available to commit to."
"And Greg [Berlanti, executive producer] was really great, he was like, 'We're going to have to kill you but we can always bring you back on Flash occasionally.' So he was great in that way."
"It was amazing, the luck of the draw to have a character that actually exists with two different versions, which was pretty lucky to be able to kind of replace it, have it actually make sense in the comic books."
"But in these worlds, you're never dead, there are so many earths, you can always come back."
Robbie Amell will appear at Supanova Comic Con & Gaming Sydney (21–23 June) and Perth (29-30 June).